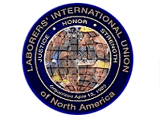 Members of the Northern California District Council of Laborers are performing a multitude of tasks on the new East Span. Their contributions include fabric barrier laying, asphalt raking, hazardous waste cleanup, drilling, concrete laying and traffic control.
The Northern California district has more than 25,000 members and operates a comprehensive training center in San Ramon. It is part of the larger Laborers International Union of North America.
To learn more, visit
Laborers' International Union of North America Website
Across the nation, LIUNA members have helped lay down new highways, build spectacular bridges, dig tunnels and subways, build new plants, factories, dams and power plants, and erect new schools, churches, hospitals and houses.
But today, "laborer" means much more than construction worker. The union's 800,000 members in more than 650 locals work in a wide variety of fields such as state, local and federal government service, as well as health care, mail handling, custodial services, shipbuilding, food service, and hazardous waste removal (including asbestos and lead).