At its groundbreaking, President Herbert Hoover called it "the greatest bridge ever erected by the human race."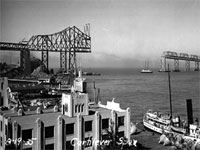 When it opened in 1936, it was the largest and most expensive bridge in the world. Its length was 4.5 miles, not counting approaches. Its cost was $77 million Depression-era dollars.
It was built at the same time that another great crossing, the Golden Gate Bridge, was rising in the west, a period that one architectural critic proclaimed was "the heroic age of American bridge-building." It boasted the biggest single-bore tunnel on the planet and a center anchorage bigger than any building in San Francisco at the time.
In 1956, it was named one of the seven engineering wonders of the world.
And in the summer of 2007, it is scheduled to be demolished.
The end is coming for the San Francisco-Oakland Bay Bridge, which for more than 65 years has borne more traffic and superlatives than most bridges on Earth. The double-deck structure - a hybrid of two suspension spans, a cantilever section and a truss bridge - remains the busiest bridge in the nation, carrying more than 270,000 vehicles a day.
The old workhorse span also carries a rich history. The story of its construction is a triumphant tale of the dreams, genius and skill of the men who envisioned and built the bridge in the face of daunting challenges. It is a story of American ingenuity at its best, of can-do perseverance and, almost inevitably, of tragedy. During construction two dozen bridgemen lost their lives.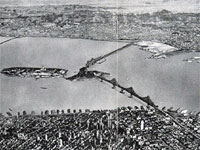 The pages of this section are by no means a complete history of the Bay Bridge. They are more like sample chapters in the great book of the span. They offer only glimpses of the construction, the working conditions and the lives of the people who built it. But vivid, telling glimpses nonetheless.
The pages are drawn from newspaper clips, on-line sources and two excellent books:
High Steel: Building the Bridges Across San Francisco Bay
By Richard Dillon; photos edited by Don DeNevi and Thomas Moulin. Celestial Arts, 1979.
The Bridge Builders: Photographs and Documents of the Raising of the San Francisco Bay Bridge, 1934-1936.
By Peter Stackpole. Pomegranate Artbooks, 1984.