It takes hundreds of people working at hundreds of jobs to build the new East Span, from crane operators on the bay to the administrative assistants in their offices, to iron workers strapped to the rising span, to designers riveted to their desks by ideas, to piledrivers and government engineers.
Each job, each person, has one purpose: To further the bridge. To defy gravity, wind and the forces of the earth with steel, concrete, sweat and intellect.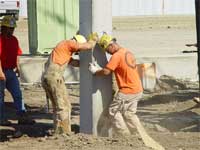 They say a bridge is a tribute to the people and organizations who build it. Perhaps. But bridges often stand much longer than the memory of who those people are and what they did to make that bridge rise.
For history's sake, this section contains the stories, names and faces of the men, women and organizations building the new East Span.