Project: Geofill prime contractor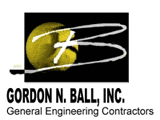 Gordon N. Ball, Inc is a heavy highway contractor performing construction projects through out the greater San Francisco Bay Area. The firm has been incorporated since 1987 and under its present management structure since 1995.
Gordon N. Ball, Inc. performs drainage improvement, slide repair, retaining wall, parking lot and seismic retrofit projects. Many have been performed on an "emergency" basis, requiring immediate procurement, organization and mobilization under difficult circumstances.
To learn more, visit
Gordon N. Ball, Inc. Website
These include several emergency slide repair projects on Hwy. 1 on the Sonoma Coast above Jenner, Ca., an emergency slide repair on Hwy. 80 near San Pablo Dam Road in Contra Costa County and emergency installations for bridge security after the Sept. 11 attacks
Recent and current projects include Tahoe Keys wetlands restoration, improvements to the Stevens Creek Trail in Mountain View and replacement of a 25-foot retaining wall n Saratoga.
The firm employs 25 full-time personnel and 40 part-time craft workers.
The two original principles of Gordon N. Ball, Inc. Gordon N. (Nate) Ball, and Hal E. Stober, had combined experience in their fields of over 70 years. Mr. Ball retired in January 2001 but is still involved with the firm as a consultant. Gordon N. Ball was an employee in his father's company, Gordon H. Ball, Inc. early in his career, and was one of the principles of Ball, Ball & Brosamer, Inc., a $200 million heavy highway contractor.
Hal E. Stober and Jeffrey M. Jones are the current principles of Gordon N. Ball, Inc.. Mr. Stober is a civil engineer who has worked Ball, Ball & Brosamer, Inc., Ghilotti Construction Company, and Ghilotti Brothers, Inc. In 1995, Mr. Stober acquired an interest in Gordon N. Ball, Inc., and is currently the President.
Jeffrey M. Jones is the current Vice President and Operations Manager for the company. His background includes over 15 years experience in the industry, including Granite Construction and private development.