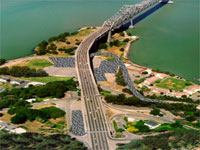 The Yerba Buena Island (YBI) Transition project will connect the Suspension Section of the new East Span with the existing roadway on the east side of the Yerba Buena Tunnel. The challenge for designers and engineers was to devise a strategy for building the connectors high above the island without impeding the flow of the 270,000 vehicles that cross the Bay Bridge every day.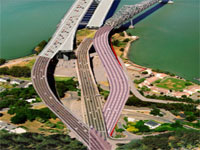 The solution: Divert both eastbound and westbound traffic onto temporary detour structures supported by 200-feet steel towers. These detour lanes will roughly parallel the existing lanes on Yerba Buena Island and will tie into the existing bridge and the east side tunnel lanes. Once traffic is detoured, the present roadway will be removed and the new lanes tying into the tunnel will be constructed.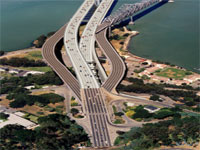 Construction of the YBI Transition project is scheduled to begin in 2003. The contract has not yet been awarded.
To learn more, visit
The YBI Transition Photo Gallery