The W2 project entails the construction of two massive pier structures 170 feet apart on Yerba Buena Island to support the western end of the Suspension Section. The pier foundations will extend 70 feet into the earth; their columns will rise as much as 89 feet from the ground to the Suspension deck.
Each of the two structures will consist of these basic components: A solid, 62-foot wide and long by 33-foot deep foundation block; retaining walls extending 35 feet from ground level to the top of the foundation box; four columns reaching from the foundation box to the Suspension section; and a column cap.
In all, the W2 structures will require 5 million pounds of steel reinforcement and 430,132 cubic feet of concrete.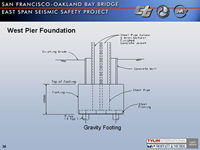 Here's how they'll build it:
The W2 work begins in earnest with the excavation of the foundation sites. To create the 70-foot holes through the Franciscan rock, crews will detonate series of 225 ammonium nitrate and fuel oil charges in sequence. Since each series of explosions will break up roughly 12 feet of rock and soil, crews will blast and remove material five or six times to reach the 70-foot depth.
The excavation of the foundation holes is expected to take 60 days, but could take 90 or more if the rock proves to be unstable that tiebacks have to be installed to support soil walls. The area between the walls and the column connections to the foundations will be left open to allow for periodic inspections.
The foundation closest to the water on the western side of the site will require four cast-in-drilled-hole (CIDH) reinforced concrete piles to pin it firmly in the earth. For both structures, reinforcing bar will be put in place before concrete is poured for the foundation, retaining walls and columns.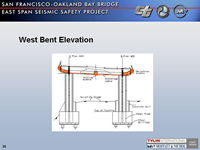 The columns will be poured in stages. Because concrete heats as it cures, cooling pipes just like the tubes in a refrigerator must be integrated in the construction of the structures to maintain a proper curing temperature.
Once the columns are completed, they will be capped with concrete structures that will tie into the Suspension section.
The project is expected to take 275 days to complete.
The prime contractor is West Bay Builders.