More incremental progress has been made on the East Span project, as the
last piles that will support the 'Skyway' section have been driven into the
Bay floor. The steel piles, eight-feet-and-two-and-a half inches in diameter
with sides two-and-a-half inches thick, are hammered at an angle to an
ultimate depth of up to 310 feet. By comparison, the existing bridge's
wooden piles are about 80 feet long. About 200,000 feet worth of steel pipe
in 160 different piles have been driven to support the new span.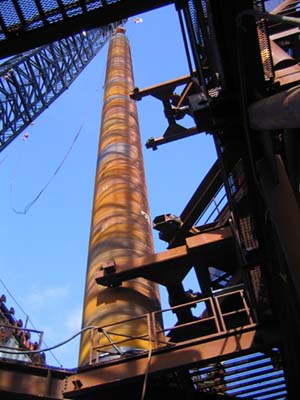 The last pile, held aloft by the DB General, (a barge mounted heavy-lift derrick crane), is lowered into position.
Photo by Joseph A. Blum

Additional photos: